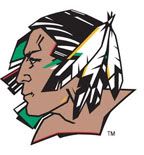 Okay, the agony has gone on long enough, there's a time to stop being stubborn. The North Dakota legislature didn't need to get into the act by passing legislation to counter the NCAA's requirement that UND replace its nickname from the Fighting Sioux to some P.C. team name!!
First off, the NCAA is a bunch of horses' asses: the Fighting Sioux is not offensive. The logo (above) is attractive and stalwart. not like the cartoonish one that the Cleveland Indians use. Also, the NCAA is selective. What about the Notre Dame Fighting Irish or the University of Louisiana at Lafayette Ragin' Cajuns? Where's the consistency? Maybe it's okay, if using a group in a team nickname constitutes ridiculing them, then is it okay to ridicule the Irish or the Cajuns??? But wait -- will U. of Illinois have to stop being the Illini, U. of Utah have to stop being the Utes, or Florida State stop being the Seminoles?
No, my response is strictly practical. the University of North Dakota is not going to win this one. Drawing a line in the sand is futile!!!
Still, nuts to the NCAA! Cut our losses, and come up with some hopefully noncorny team name,